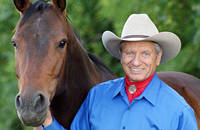 Monty Roberts
There are no active performances for this event!
Info
Monty Roberts in the Spanish Riding School
The man who listens to horses
On 2nd of July 2017 the world famous horse trainer Monty Roberts, also known as "The Horse Whisperer", will be host at the Spanish Riding School.
For the first time in history, the traditional Spanish Riding School, that has cherished and maintained the High School of Classical Horsemanship for over 450 years, will open the doors of its famous Winter Riding School for 82-year old Monty Roberts and his show.
The man, who reads and understands the body language of horses, demonstrates in his show his method Join-Up® with four horses. He will deal with 3 classical horse topics – starting the training of a young horse, handling a skittish horse and loading a horse.
Monty Roberts' training is based on the natural behaviour of a flight animal, which he invites to follow him and work with him. He sees himself as a mediator, who invites horses of all breeds and disciplines to cooperate trustfully with the human being.
In the Winter Riding School we will see four horses, of different age and breed, in individual training sessions. Monty will comment his work and his instructors will translate to German. After the first two horses, there will be a break and book-signing by Monty, followed by the second part of the show with the demonstration of two more horse training sessions.
Spanish Riding School, Michaelerplatz 1, 1010 Vienna
2nd of July
17:00 hrs Show Start
16:00 hrs VIP reception