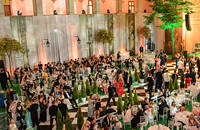 Fete Impériale 2018 - Stallburg
There are no active performances for this event!
Info
Abholung:
22.-28.6.18 09:00 – 16:00 h im Kartenbüro der Spanischen Hofreitschule, Michaelerplatz 1
29.6.18  09:00 – 15:00 h im Kartenbüro der Spanischen Hofreitschule, Michaelerplatz 1
18:00-23:30 an der Abendkassa am Josefsplatz

A summer night dream comes true
For the ninth time in a row, the Spanish Riding School will present itself as Vienna's most beautiful summer ball location. On June 29th, 2018, at the Fête Impériale, 2,500 guests will enjoy a glittering evening under the stars again – where normally only the Lipizzaner stallions dance. They are on holiday in July and August.
Just as in imperial times, carriages will arrive on the Michaelerplatz. The riding area will turn into a dance floor and provides their guests ample space to perform their Caprioles, Levades, Courbettes and the School Quadrilles. The open galleries of the Winter Riding School invite guests to stroll around, enjoy themselves and above all: to see and be seen – a major part of the fun!
Guests also dance under the stars in the Stallburg or take a walk in the Summer Riding School, where a variety of bars offer champagne and wine.
The Spanish Riding School bears the responsibility for very important national treasures: the preservation of the oldest cultural horse breed, the Lipizzaners, and the preservation of the tradition of the High School of Classical Horsemanship. We celebrate an imperial festivity in the long tradition of the Spanish Riding School with you!
PROGRAMME
Admission depending on ticket: Josefsplatz/Michaelerplatz 8.15 p.m.
Festive Procession from the Michaela's Cupola into the Winter Riding School 9.00 p.m.
Opening ceremony in the Winter Riding School 9.45 p.m.
Traditional Midnight Quadrille 12.00 p.m.
End of Féte Impêriale 2018 4.00 a.m.
DRESSCODE
Ladies: floor-lenght evening gown
Gentlemen: white tie, dinner jacket or gala uniform
TA B L E S - S TA L L B U R G
Tables are available for 4, 6, 8 or 10 persons.
P R I C E P E R P E R S O N : € 300
The price includes the entrance and seat reservation in the Stallburg, the invitation to the cocktail reception under the Michaeler dome and access to the Winter Riding School for the formal opening ceremony. Tickets for tables can also be purchased individually. Admission starts at 8.15 pm at Michaelerplatz.
All paid tickets will be delivered by post starting with June, 2018.
Please note that tickets are not refundable.