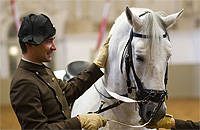 VORFÜHRUNG
There are no active performances for this event!
Info
A TRIBUTE TO VIENNA
The Spanish Riding School and the Vienna Boys' Choir … two world-famous cultural institutions
Take part in a premiere! Two of the most famous Austrian cultural institutions present their exceptional cooperation in the Baroque ambiance of the Winter Riding School in the Imperial Hofburg Palace.
You will experience the High School of Classical Horsemanship and the wonderful songs and choral arrangements of the Vienna Boys' Choir.
The Vienna Boys' Choir was established by Maximilian I of Habsburg more than 500 years ago. The choir is the modern-day descendant of the boys' choirs from the Viennese Court. Till this day the choir has been cherishing its Imperial tradition.
The Spanish Riding School in Vienna is the only institution in the world which has practiced for over 440 years and continues to cultivate classical equitation in the Renaissance tradition of the Haute Ecole.
A TRIBUTE TO VIENNA shows the highlights of the Ballet of the White Stallions and the musical performance of the world's undoubtedly most renowned boys' choir, the Vienna Boys' Choir.
Let yourself be whisked away and accompany us on a journey back to the times of Maria Theresia.
You want more information on events and attractions in Vienna? Click here!
The Spanish Riding school is the only instution in the world of its kind which operates for over 430 years. Beautiful horses and astonishing choreographies will make the audience hardly believe their eyes. The performances of the Vienna Spanish Riding school are an unique experience for the old and the young ones and a must-seen attraction on every Vienna trip.
The objective of classical equitation is to study the way the horse naturally moves and to cultivate the highest levels of haute école elegance the horse is capable of through systematic training. The result creates an unparalleled harmony between rider and horse, as only Vienna's Spanish Riding School achieves.


A: Performance with Carriage Presentation, 80 min.
B: Performance, 80 min.
C: Commentated Performance, 100 min.
D: New Year's Eve Performance, 80 min.



*************************************************************

Children under the age of three are not allowed to attend performances. Children aged three to six are free (sitting on parent's lap). Children aged six to 12 are entitled to a discount. Taking photographs and filming during performances is not permitted.

***********************************************************
Italiano
La scuola di equitazione spagnola di Vienna è l'unica istituzione al mondo dove la classica arte dell'arte dell'equitazione  della tradizione rinascimentale dell"alta scuola"  vive e viene mantenuta immutata da più di 430 anni.
Le esibizioni , che presentano gli stalloni lipizzani bianchi e i loro preparatori nella scuola invernale barocca , edificata da Josef Emanuel Fischer tra il 1729 e il 1735 , conta tra le più belle impressioni per gli amanti die cavalli e sono un vivace esempio della manutenzione della cultura europea.
A esibizione con la presentazione delle carrozze , 90 minuti.
B esibizione , 80 minuti
C esibizione con moderazione , 100 minuti
D esibizione di capodanno (silvester ?)
Ogni 21esimo biglietto per l'esibizione è gratuito – otterrete questo sconto di gruppo nel nostro reparto B2B sotto : b2b@oeticket.com


***********************************************************


I bambini fino ai 3 anni non possono partecipare all'esibizione.
Per i bambini dai 3 ai 6 anni l'ingresso è gratuito (posto in grembo)
I bambini dai 6 ai 12 anni ottengono un ingresso ridotto.
È vietato fotografare e fare riprese durante  gli spettacoli.
***********************************************************
Gallery
disable advanced gallery