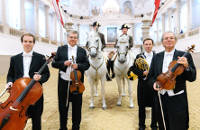 A TRIBUTE TO VIENNA WPH
There are no active performances for this event!
Info
A TRIBUTE TO VIENNA - Performance accompanied by professor Günter Seifert, member of the Vienna Philharmonic Orchestra and his philharmonic colleagues
From the end of November representatives of Viennese culture will enchant the audience in the baroque atmosphere of the Winter Riding School. On the one hand, the riders of the Spanish Riding School will perform – on the other hand professor Günter Seifert will perform, member of the Vienna Philharmonic Orchestra together with eight of his philharmonic Viennese friends.
On these special performance evenings, a singer will always entertain the audience with two Waltz songs. One singer is Alexandra Reinprecht, who usually performs at the Vienna State Opera, which is one of the most famous opera houses in the world. The second singer is Ildiko Raimondi (she is a so called Kammersängerin, which is an honorary title for female singers in Austria and Germany), who is a popular singer at the Vienna People's Opera. The singers will perform in the most beautiful riding hall in the world, the Winter Riding School of the Spanish Riding School. The Spanish Riding School is not only the oldest, but also the only riding institution in the world, which has cherished and maintained the High School of Classical Horsemanship in its purest form for over 450 years.
Kapriole, Levade and Johann Strauß
Let yourself be whisked away on a musical journey back into the Austrian imperial period!
The performance of A TRIBUTE TO VIENNA will share the highlights of the Viennese ballet of the white stallions alternating with musical presentations of the imperial period. During the performance, the Spanish Riding School presents its most important exercises of the range of the High School – as usual, in highest elegance and harmony – among others the "Pas de Deux" and the world famous Schools Above the Ground: the Capriole, Levade and Courbette. Professor Günter Seifert also presents a typical Viennese repertoire: from the Waltz Song of Johann Strauß Son "Out there in Sievering the lilac is blooming already", to his "Schwipslied", the "Annen-Polka", the "Chineser Galop" by Johann Strauß Father, the "Jubelwalzer" by joseph Lanner to the ouverture of Mozarts Opera "La Clemenza di Tito" as well as the"Radetzky March", one of the most famous marches in the world, which traditionally concludes every new year's concert and has a highly symbolic meaning for the Austro- Hungarian monarchy.
The performance will be commented and presented  in German and English.